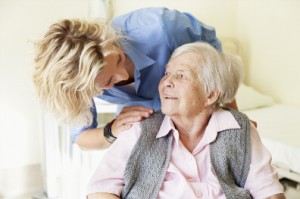 Familial Alzheimer's disease (FAD) is caused by genetics. It's a rare form of Alzheimer's that accounts for 2-3% of all Alzheimer's cases. It is often referred to as early onset Alzheimer's as symptoms develop in people in their 30's or 40's. If you are looking for a senior care facility, senior care elder services or skilled nursing, call At Home Senior Care. We are a home care agency in Boston that provides home care to seniors in Massachusetts.
FAD is Genetic
Research claims that people with FAD have genetic issues that cause a mutation in one to three of their genes. The genes create an increase in the production of proteins that can band together and create the symptoms of Alzheimer's. It's rare for FAD to present itself without having at least one parent diagnosed. Those with parents who have been diagnosed have a 50% chance of developing it. At Home Senor Care has available home health aides for assistance with personal care and other activities.
There is No Cure
Sadly, there is no cure for FAD and those diagnosed will eventually be completely dependent on others for care. (Call At Home Senior Care if you need assistance with physical therapy, occupational therapy, speech therapy or a social worker.) FAD is rare because of its early onset and because it differs from the common late-onset version of Alzheimer's. Because of its rarity, advocacy and funding are lacking. Genetic testing is helpful in determining if a person is at risk for the disease. Only 200 families in the world are known to carry the genetic mutation. An early diagnosis is helpful as it can lead to better treatment options.
Research Continues
While researchers try to find a cure, they believe certain factors can help to prevent the disease. They urge people to make positive lifestyle choice including eating a healthy diet, daily exercise and living a low-stress lifestyle. At Home Senior Care provides home care services in patients' places of residency. We provide a variety of services in Greater Boston area including North Shore, South Shore, Metro West area and other locations.